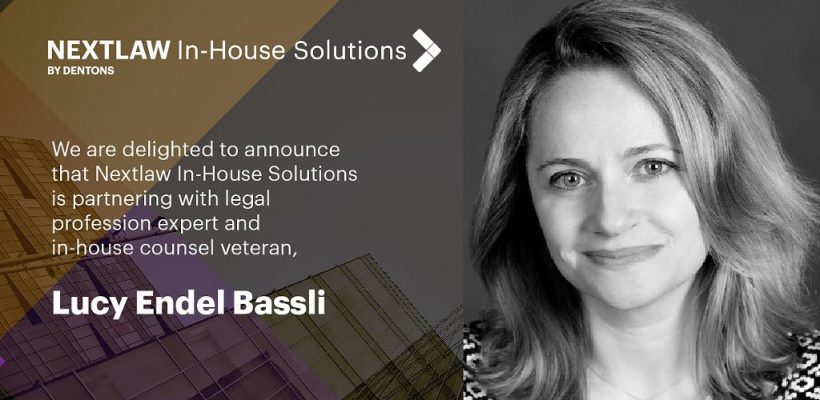 Nextlaw In-House Solutions, Dentons' global strategic business of law advisory, is pleased to announce a partnership with legal profession expert and in-house counsel veteran, Lucy Endel Bassli, founder of InnoLegal Services PLLC. With an impressive background including both legal and operations experience with 13 years at Microsoft, and most recently at Snowflake, Inc., Lucy is a seasoned professional who brings a fresh perspective on the many dimensions of the legal operations spectrum.
"Our partnership with Lucy reinforces our commitment always to be focused on the "voice of our client". Lucy's impressive in-house experience and extensive legal operations expertise further enhance our delivery of relevant, integrated multi-disciplinary business solutions to in-house teams from those who understand and share our clients' perspectives," said Nextlaw In-House Solutions CEO, Chris Pinnington.
"I am thrilled to support Nextlaw's initiatives and work with their clients to bring the art of the possible by optimizing their legal department operations and modernizing the delivery of legal services to continue to bring about a differentiated offering," said Lucy Bassli.
Lucy's experience adds to Dentons' 60+ former in-house counsel and GCs around the globe, in addition to the many Project Management and Technology professionals who are supporting law departments by creating efficiencies with department workflow through process and technology to developing and managing talent and demonstrating law department value and contributions.
While Lucy specializes in contracting (resource allocation, automation, process optimization and smart risk-taking), she is a legal operations generalist with experience in spend management, knowledge management and strategic planning.
ABOUT NEXTLAW IN-HOUSE SOLUTIONS
Nextlaw In-House Solutions brings together more than 60 former General Counsel and in-house counsel across the globe, along with legal technology and process management experts and professionals across the spectrum of legal operations disciplines, to form a global strategic advisory providing integrated, multi-disciplinary services, experienced market insights and pragmatic business solutions. www.nextlawinhouse.com
ABOUT DENTONS
Dentons is the world's largest law firm, delivering quality and value to clients around the globe. Dentons is a leader on the Acritas Global Elite Brand Index, a BTI Client Service 30 Award winner and recognized by prominent business and legal publications for its innovations in client service, including founding Nextlaw Enterprise, Dentons' wholly owned subsidiary of innovation, advisory and technology operating units. Dentons' polycentric approach, commitment to inclusion and diversity and world-class talent challenge the status quo to advance client interests in the communities in which we live and work. www.dentons.com.